Basil the landlord strolled into the house one afternoon as usual, and sat down awkwardly, periodically divulging utterly irrelevant and frankly laughable details about his depressingly uneventful life ('I like action films', 'I want to name my next son Osamu', etc.) until we caved to the pressure and offered him Earl Grey.
We didn't understand the next bit in Arabic, so he tried his English on us: 'I give task you, must have Rozin die, away house. I want blanket'.
'You want us to get rid of Rozin the prostitute by means of a gruesome murder?'
'Aywa. Then we talk blanket. You have blanket?'
Then there was a house meeting for the five of us after he left, the Turkish coffee flowed.
'I'm getting a shwarma', Johnny declared after about three seconds, and immediately left, neatly avoiding any defamation of character in the following… er… passage.
So the four of us slowly brought our heads round to look at the entrance to the beast's room, distaste etched into every face as we imagined a particularly perverted client taking delight in depilating her copious body hair. Actually that was just Roberto. Thinking about it, I mean (well, I hope, anyway).
'As unquestionably the funniest person here, I should definitely not have to do this' I declared.
'You're not the funniest person here, Mick' Aubeida replied with a look of incredulity, 'you're a wanker'.
'I call second' hastened Roberto.
Carlos 'Third'.
Aubeida sighed heavily. 'Fourth…'
'Don't worry, ya shabaab!' I added, 'any bizarre, criminal and probably quite dangerous activity becomes fun and culturally important if we opera up! Just imagine!'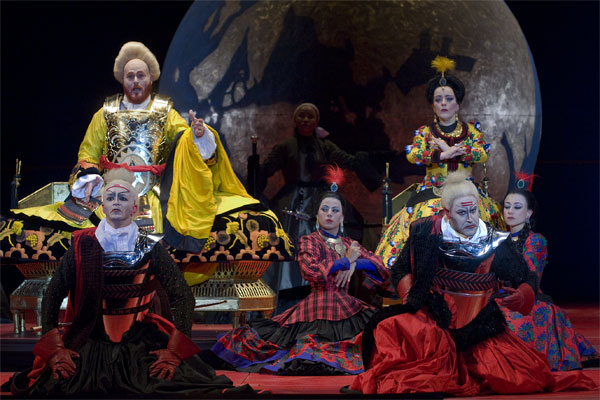 Suddenly we were standing in some nameless Neapolitan palace lavishly decorated with ceiling paintings of frolicking cupids, candyfloss skies and (artistic) nude women. Everything henceforth we sang in high Italian and repeated three or four times whilst cavorting around like it had been about two years since we'd last had a wank, but I'm sure you can imagine that easily enough.
'If Rozin looked like one of those, we might not have to kill her' suggested Roberto, pointing to the ceiling and thinking hard for a few seconds before adding 'yanee, habibi'.
'Someone's external physical appearance has no effect on their potential to be venereally diseased, you know' Carlos corrected him.
'THAT'S WHAT SHE SAID!' I said, sounding fairly convinced that I was funny. Aubeida seemed to 'get' it and we high-fived unnecessarily. I glanced around to see if we'd get some rolling banter but wasn't too surprised when instead I got Roberto's typical reaction of a stare with mixed fear and incomprehension for quite a bit longer than strictly required to chastise me.
Swaggering through into the next room, we quickly spied the source of the problem. A vile, disgusting mass radiating palpable physical, moral and spiritual repulsiveness was slumped in one corner, farting and coughing up mucus at regular intervals.
'Is anyone else horny?' Carlos asked.
An awkward silence ensued, whereupon we decided, mentally so as not to introduce more nauseating dialogue, that henceforth we'd just stop every fifteen minutes and pool together the awkward silences so that we didn't have to interrupt the… wonderfully descriptive prose narrative or, for that matter, our scintillating conversations.
Matters didn't really come to a head when the composer inserted a gratuitous bassoon obbligato while Aubeida sang 'Muraglie abbattere, disfar incanti, se vuoi ch'io vanti darti prove d'amor'. I'd been at the toilet for the seven minutes that took, playing Snake on my phone and getting a little carried away (they added a campaign mode so all my shits now take double the time), so only caught the last two minutes, after which he informed me that it wasn't a reference to my mother, which was nice to know.
We agreed that it would be very difficult to get within an erect penis' length of the monster without choking on the smell or simply losing the will to live, but there was some debate over exactly how great a distance that was, and more importantly over how incredibly stuipid an idea that would be even with immediate death temporarily ignored.
'I know!' Carlos volunteered, 'what about I dress up as a woman, slowly gain her confidence and then poison her? That way we can make out this largely unrelated selection of concert arias to be a genuine play set to music. It's not that I'm a transvestite or anything'.
We all sang a few songs about spurned lovers, fighting people, loneliness, the importance of marital fidelity and fighting people, then a handy deus ex machina resulted as Apollo got seriously fucking bored with watching us all mincing about, driving his chariot right into where the beast's head should be/was before it was swallowed up by the body. It seemed to do the trick, and so after some great storm music that resulted in a few violin strings breaking which would be kept by Roberto and used as sex aides (some people are into that, I don't ask), we were left with a mass of slowly decaying flesh which smelt marginally better than the living version.
It took about ten seconds for a herd of stray cats to pick the body clean (oh wait, this is 18th-century Naples, not Damascus. But no matter).
'Wow, this has been a great success' said Carlos with a disturbing smile on his face. 'Also not a reference to your mother'.
In the cavernous folds of fat we discovered, amongst other things, an ornate backgammon set with a piece missing ('Mmm, this is irritating, yes?' Roberto suggested helpfully), three formerly-notorious Saudi paedophiles who had apparently been trapped there since the late '70s and a small car filled with heroin.
Johnny came back holding a half-eaten shwarma and his face quickly contorted into a look of disgust.
'Roberto… um… Saahib al-bait…?'